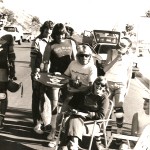 Welcome to the National Skateboard Review newspaper OTW (On The Web). What you will find here, eventually,  is a pdf posting of each of the editions of the National Skateboard Review from 1976-1979. Please copy and use what pages will be of use to you. All I ask is you credit "National Skateboard Review".
This newspaper covered the grass roots of skateboarding while Warren Bolster's Skateboarder magazine covered the professionals, the products, and companies that were flourishing at that time. As the paper evolved, it featured skaters, race results, educational articles, newly opened skate parks, and a "Let's Hear From…" section.
The founding publication was a single letter-sized sheet called Skateboard Racing News. It came out once in 1976 as a collaboration between Peggy Turner, wife of Turner SummerSki designer/manufacturer, Bobby Turner and me. The racers at La Costa would ask each week what their times were the week before. To provide that information, Peggy suggested we use her publishing job to put out a newsletter. Although it was a huge success, Peggy was only interested in doing the one issue. With her permission and encouragement, I continued and the next issue was released as my effort called National Skateboard Review (NSR). It continued as a "mostly" monthly newspaper for three years.
This all came from running slalom races at La Costa. I was there skating Black Hill with my brother Craig Dootson and childhood friend David Dominy – we were roommates at the time.  Dave invented Tracker Trucks on our dining room table and was at Black Hill doing product testing. Soon all the new products were being tested there. Doing that testing were the skaters that became the manufacturer's professional teams.
As you can imagine, when there is even just two riders on the hill, it got competitive. Prompted by Tommy Ryan to "put the money up" I ran the races the way the racers wanted. We were there every Sunday for three years, except when the pros and I traveled to do a pro event out of town. The National Skateboard Review provided the race results that recorded results. The manufacturers needed that information for product R&D.
The NSR was an overnight success and, as companies bought ad space, I was able to leave my "real" job as a Recreation Therapist in hospitals and keep the presses running. I published a "How To Run A Skateboard Contest" booklet that sold for $50 and was popular enough that I needed two printings. I was hired to travel around the country to run other people's contests. I worked Pro events all over the country. I went to the opening of skate parks from San Diego to Florida to run their opening ceremony races. Shopping malls would call me to run a skateboard ramp demo for a weekend.
I got photos from regular contributors – most notably Lance Smith. Other photographers were Tim Stahl, Tim Bee, Glenn Miyoda. I got articles from skaters all over the country. Warren Bolster and I worked together at this time. I wrote articles for "Skateboarder" and he helped me make my newspaper better and better. I needed help with shipping and Judith Cohen was my help. The owners of Carlsbad Skatepark (Skatepark Constructors), John O'Malley and Jack Graham were my benefactors: when ad income didn't make budget, they wrote a check to cover production costs. Those few folks, and my Aussie dog, Martha, were the hub of the NSR. It was an amazing 4 years.
This website started in 2009 as a winter time hobby. I wanted to share the best parts of each issue with interested readers. So far, I have slowly re-visited several issues.  This new blog is a new website format for me. I am hoping you will enjoy the full display of each newspaper as I release them one at a time as my free time allows.
I can't thank my webmaster, Chris Yandall, RIP, enough. He was  more than patient with me as I learned this craft enough to help him get my website up in ways I can barely imagine. I miss him terribly as a friend and webmaster.
Rick Floyd is my new webmaster. He is a pro skateboarder from Massachusetts and a professional web guru. I first met him when Chris was in the hospital. At that time, I was impressed by his resourcefulness. Since then, I have gotten to know him well and admire him so. You will see his web skills on this website starting October, 2016.