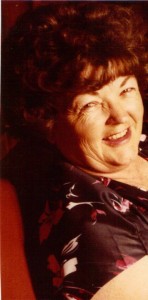 Editor's Note:
Barbara was interviewed by John O'Malley for the November 1977 issue of National Skateboard Review. That article appeared with the photo of the family all on skateboards on Black Hill. I have included that photo again here. To read John's article, go to the "November, 1977" page in this website.
This was a heartfelt interview. With Barbara's passing in 2007, I spoke with her children to get "her" answers about her life. This family is very close and what might be some mother's private thoughts and feelings is not the case here. She was always working full time while she was the mother of 5 children, and a wife. Not much time for herself. Her family was her passion and her therapy.
NSR: How did you get started in skateboarding?
LOGANS: In the 1950's, she was 26 years old, and living in Hermosa Beach with a second husband and 3 boys: Brian, Bruce, and Brad. She took Brian, Bruce, and their friends to skate spots. Brad was too little to go. In 1960, she had daughter, Robin. Her fifth child, son Brett, was born in 1963. She worked as a waitress at the Seafare Restaurant in Manhattan Beach for 17 years. The family would beach camp, go to the beach to surf, and build skateboards.
Tragedy hit hard in 1965 when the baby was killed by a car. This second marriage did not survive. What did survive was her devotion to her family. She dove into the family to cope with the loss of child and husband. By 1967, she abandoned the legal wrangle over the accident to focus on her life ahead.
In 1968, she married again and continued to be a working mother to her 4 children. In 1973, eldest son, Brian, had moved to Leucadia. The skateboard company he and Bruce had started in Hermosa Beach was moved there. By the end of that year, all the sibs and Barbara joined him in Leucadia. Barbara moved down as a single mother.
The family started to build the business as Logan Earth Ski in 1974. By then, Barbara had left her outside employment and was working for the family effort. She remained single.
NSR: Did she ever skate at La Costa:
LOGANS: She didn't ride skateboards herself. She did ride one for that published photo (below) but she worked in the shop helping with assembly and the bookkeeping. Her bookkeeping skills were self-taught. She rarely traveled but she did go with Bruce and Robin to out of town events on occasion for demos. She was a nervous wreck at contests so didn't go to many of those. She really was a home-body. She occasionally would go to the local races to see what was going on.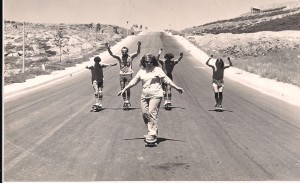 NSR: What were her best memories from those days?
LOGANS: She loved staying close to us kids. We always had a bunch of skaters over every night, 6 to 8 of them, for dinner and to sleep over. She was famous for the family spaghetti recipe and would make vats of pasta to feed everyone. Too bad that recipe is lost.
NSR: What was the hardest time for her?
LOGANS: Her biggest challenge was closing down the business. Over a two year period, she moved into smaller and smaller spaces and had to deal with reducing inventory and hopes and dreams. The actual closing of the doors in 1980 was heartbreaking.
NSR: Where did life take her after the business closed?
LOGANS: She went to work with Peggy Turner (wife of designer Bobby Turner of Turner Summerski) at Smythe Graphics. Peggy taught her typesetting and they worked together for years. She got a Hawaiian vacation in 1982 with Robin that she enjoyed. In 1987 she moved to Palm Desert to live with Robin and her grandchildren, Casey and Carley Logan. She worked full time as a typesetter for a company there. She helped Robin as she raised her children.
In 1993, she returned to Oceanside and lived with Brian as she started her battle with breast cancer. Following that first struggle, she was recuperating. She was not working outside the home so was able to spend her time as Grandmother to Brad's children and enjoyed gardening. The cancer was in remission for years. She was in a car accident in 2005 and received major injuries. In that medical evaluation they discovered stage 4 cancer throughout her body. On November 17, 2007, the cancer took her life.
NSR: Who do you think she was most appreciative of in those skateboard days?
LOGANS: She loved John O'Malley (for the connection that they had), Warren Bolster (for the interview and kindness he showed her), Jim Shu (for the international supply of wood used in the business), Chuck Edwall (he was so upbeat, funny, and he loved Logan Earth Ski, too), and Denis Shufeldt (she just plain loved him). Elaine Stinger, of Donel Distributors, was a great long distance business girlfriend. She was so appreciative the boys from Gravity, Michael Bream and Kevin Kennedy, because they kept Logan Earth Ski alive for Bruce. Ron Taylor, from Taylor-Dykema, was one of her favorites – other than the business of making the decks, they were friends.
NSR: What do you think is the legacy she has left you?
BRIAN: "Take care of Bruce!"
BRUCE: "Keep up the good work."
BRAD: "Family values."
ROBIN: "Keep the family together." "Be like a duck and let it bead off your back."
NSR: If anyone would like to respond to this interview, how should they contact you?
LOGANS: Use our website, loganearthski.com. It has a contact link that you can use to reach us.
Editor's Note: Barbara Logan's life and legacy continues to reach out and influence us all. To have known her was to love her. She is deeply missed.