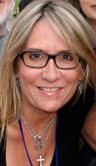 Editor's Note: I first met Laura when she would come to Black Hill to do freestyle at the top of the hill and join in some of the slalom races. She was very intense about her skating. She was quite young and I always affectionately called her "Little Laura Thornhill". I am thrilled that we have met again as grown women and am thoroughly enjoying our ongoing friendship. No longer "Little Laura Thornhill", she has grown to become an outspoken dynamic person who leads an amazing life. I thank her for taking the time to do this interview so you can read just how spectacular she is.


NSR: How did you get started in skateboarding?
Laura: I first started seriously riding when I got a Black Knight Skateboard in 1974 for my thirteenth birthday. I was in the 7th grade and had just moved from Dallas, Texas, to sunny Southern California. I first began by trying to improve on what I had already learned to do while living in Dallas.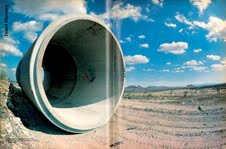 For a few months before moving to California, I would regularly steal/borrow the skateboard the six little boys who lived next door would leave on their front lawn. It was a beater board with clay wheels and steel ball bearings, but I had gotten pretty good at going up and down our driveway, turning the corner to go down the sidewalk and back again. I was actually pretty good at kick turning but could really only do it in one direction. Now in California, and being the proud owner of my new Black Knight, I started where I had left off in Texas and began by practicing kick turns around the swimming pool that was filled with water in our backyard. In no time at all I had mastered tic tacking back and forth…that was in March 1974.


The amazing area we had moved to was known as the Hollywood Rivera. It is actually where most of the movie "Skater Dater" was filmed. It was nothing but hills and I would practice every day after school for hours learning new tricks in an attempt to master my amazing new "magic rolling board" that had become my one and only passion that I lived and breathed every moment of every single day. My first accomplishment was entering a skateboard contest at my school. I was the only girl in it, and I ended up winning 1st place against all of the boys… I was a very happy girl that day, to say the least.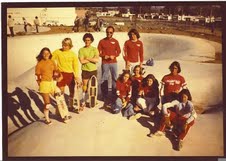 For Christmas I asked for a new white Hobie Super Surfer that had these super cool blue urethane wheels on it… it was a beauty and truly one of the coolest boards out at that time. It was all I wanted for Christmas that year and after my mom bought it, I'd found where she had stashed it and would ride it every day after school in the backyard around the pool. I would then wipe the wheels off and carefully put it back in the stash spot, completely unbeknownst to my Mom. A few weeks later when I finally had the great joy of pretending to see it for the first time Christmas morning, my mom told me that she had known that I had been riding it all along.


NSR: How did your career progress?
Laura: The year was now 1975 and the Steve's South Bay contest was coming up. I wanted more than anything to be a member on the Unity Skateboard Team along with Ty Page and some other amazing skaters from the South Bay area and I was told if I did well at Steve's South Bay, I would easily be the new girl on the Unity Team. That was my mission and I was determined to accomplish it. I ended up winning 1st place in freestyle and was asked by Danny Bearer to become a member of the Logan Earth Ski Skateboard Team. They were by far one of THE top teams that everyone wanted to be on at the time. That day I left with a classic brand new oak Logan Earth Ski board and coveted blue team jersey. I was walking on air and that day would definitely prove to be the moment my life would change forever. Immediately I started going down to Encinitas just about every weekend and within a couple of weeks, was told that Warren Bolster wanted to meet and do a photo session with me. That very same day he decided that Skateboarder Magazine would feature me as the very first female to have a "Who's Hot" in the newly revived Skateboarder Magazine. I quickly became one of his favorite female photographic subjects and later went on to have the first female interview as well as the first female centerfold in Skateboarder Magazine. The photo was shot at the very first trip to the now famous Arizona Pipes. I was the only girl that day on what proved to be a historic skateboard safari to one of the most epic places on the planet to skate at that time. It was Warren, myself, and about eight of the best male skateboarders in the world.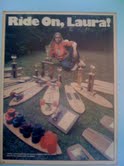 NSR: How did La Costa play into your career?
Laura: La Costa had become the "go to" place every weekend back in those days and now that I was on the Logan Earth Ski team, I would be in Encinitas and Leucadia every Friday thru Sunday. Those were the days when the races were just beginning to happen out at Black Hill and we would spend hours there skating as a team, doing freestyle, slalom, and having the time of our lives.


NSR: What is your best memories from this chapter in your life?
Laura: At that point, every weekend had become the ultimate skateboarding safari. The ritual was hours spent out at La Costa, trips to Escondido to the amazing Reservoir, and late night kamikaze runs down the concourse parking structure in downtown San Diego. And then came Carlsbad Skatepark… talk about endless hours of cutting new lines and tearing up skin !!! Those were the days and it was a blast !!! Whether we were at La Costa doing freestyle and slalom or at Carlsbad riding the bowls and doing photo shoots, it was always an amazing time spent with what had become an incredible community of personalities and characters from San Diego and North SD County as well as Orange County and the LA and South Bay area. Every weekend was a virtual "Who's Who" in the book of legends of the sport back in those days. They are treasured times for sure and days I will forever look back at with the fondest of memories. Many of those relationships are still some of my strongest to this day.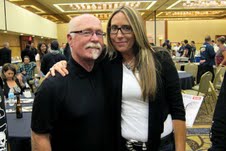 Finding a "best" memory is a tough one, but right up there at the top would certainly be when I had the honor of having the first female signature model to come out in the rebirth of Skateboarding in the 70's. There were also loads of amazing times traveling around the country doing demonstrations and television sports specials, film work, stunt work and skating at lots of outdoor stadium rock concerts that were a blast too. The outstanding memories are endless and truly, truth be known, ALL of it was a priceless way to spend one's youth.


NSR: What was your worst memory?
Laura: By far, my worst memory was at the new Montebello Skatepark in 1978. I was a world champion and one of the top female skateboarders around. It was on a day when a bunch of the top pros had gathered to test ride the still unopened park.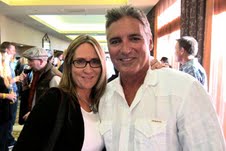 I had borrowed Stacy Peralta's board to do a run down this amazing, beautiful, snake run. When I came riding back up to give him his board, I did a kick turn to stop, as I always did, but being that the park was brand new, the concrete was very slick in certain spots. The board slid out and I put my arm out to catch myself as I fell backwards, and I completely did a full dislocation of my left elbow. That was truly the beginning of the end for me.


For one, I ended up with a cast on my arm for the next few months; and two, my fearless edge, and go-for-it attitude had given way to being extremely cautious and the forever looming fear that I was going to hurt my elbow again. Two more times within the next year, I dislocated my elbow again. Never as bad as the first time but nonetheless each setback seemed the worst, as it would take me out of riding for a month or two at a time. I even had a custom made brace for my elbow that looked like some kind of weird bionic rig. I continued to ride and still be one of the top female skaters thru 1979 but through it all, the pain in the joint and the slightest little bump against anything was well beyond something that would quickly heal and the pain was beginning to wear on me. Sadly, that elbow continued to plague me for the next 15 years.


NSR: Where has life taken you after your skateboard career?
Laura: Shortly after the demise of my career due to my elbow, skateboarding in general was on the decline. Within a couple of years most of the teams and companies had folded or were, at best, skeletons of what they had once been. At that point I was involved in the entertainment business. I worked at a record company for a couple of years and various other jobs in the entertainment industry and soon found myself working in Hollywood at a company where I would eventually meet my future husband. We had both just finished working on the Closing Ceremonies extravaganza at the 1984 Summer Olympics. At this point I was now working on music videos and movie projects as a production coordinator. After getting married in 1987 I had my first child, a son named Sage who was born in 1990 and my second child in 1993, a daughter named Kylie.


Shortly thereafter, my husband, his partner, and I started our own company that provided state of the art rehearsal studios, and musical equipment and gear for the top musical acts in the world of rock and roll. We also built a beautiful soundstage where many music videos and TV shows would take place. Being a full time mom and the woman behind the scenes of our company, I was networking and hosting people and clients at all of the shows that we worked on – which was just about everything under the sun. We provided musical production support for just about every Award Show and Music Special on the planet and everything in between. Life was indeed good.


Several years later we bought a three acre piece of property in Santa Clarita and I spent the next five years designing and overseeing the construction of my dream home. Life at that point was very busy and overflowing with many blessings and feelings of overwhelming gratitude. Living the dream of a life filled with kids and an abundant and very successful business was really all I had ever dreamed of.
Life is definitely a rollercoaster and many changes have taken place over the past few years. But life is good and I am happy. I am in a relationship with a fellow pro skateboarder from the 70-80's that I have known for over 30 years. I am still involved in the entertainment industry and am currently working on the development of a couple of TV shows and other exciting projects. Sports, entertainment, and creative endeavors are indeed my passion and still at the core of all that I do.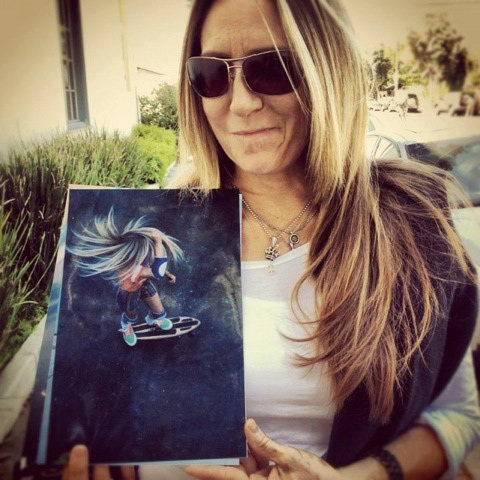 NSR: Do you still skateboard?
Laura: Yes, I do still ride. I like to cruise and carve and am into long boarding and freestyle, but am always ever so careful as to not push the limits and hurt my elbow. I've goofed around in various skate parks over the years, and actually went to the very first year of the Mighty Mamma Skate-O-Rama in 2003 with Kylie and had a blast! Next year they chose to honor me as I happily accepted with great joy. I may not ride every day, but when I do, I ride with great enthusiasm and happiness and enjoy every moment of being on the magic rolling board.


NSR: What is your sport passion today?
Laura: I'm very into snowboarding and, if life permitted, would spend the entire winter boarding every year. For the past twenty years, I have been heavily involved in cycling. For about six years, back in the mid 1990's I raced mountain bikes and had a blast doing that. I still mountain bike, but the majority of my riding these days is road riding. I generally ride anywhere from 80 to 120 miles a week. I've ridden from San Francisco to LA twice raising money and awareness for the Arthritis Association and actually rode in honor of Warren Bolster the first year as he suffered from debilitating arthritis and raised $10,000 in his honor.


I'm also an avid hiker and trail runner, love the ocean, and in the summer do a lot of boogie boarding. Basically anything outdoors which requires serious movement and breathing is at the top of my daily to-do list. I also love yoga and Pilates.


I'm totally into music, healthy food, raw food, the Slow Food movement, and basically anything good clean and healthy. I love art, fashion, architecture, and just about anything visually interesting and stimulating.


NSR: Who would you like to thank for your skateboarding life?
Laura: First and foremost, I would like to thank my mom for marrying my stepfather back in 1973 and then moving us to southern California, for without that life altering event, I would have never ended up on the path which led my life to the amazing sport of skateboarding and the doors that career path opened up to me and my future. It changed my life in unimaginable ways.


Next, I need to thank my kids for enriching my life with beauty, love, and joy. They are amazing and are both now young adults. They are beautiful and talented, and artistically stimulating beyond belief. They are ultimately my pride and joy, and something I can't imagine my life without.
I would also like to thank my skateboarding family, made up of the entire Logan family, and the various, amazing riders that graced our team over the years. As well as some of my dearest, most loved friends on the planet, all of whom have come to me through my history in skateboarding. I am still in contact with loads and loads of people and characters from my skateboarding career and will forever remain eternally grateful to them all for gracing my life over the past 38 years.


NSR: How can people contact you?
Laura: They can either find me on Facebook under Laura Thornhill Caswell, or can email me at ltcaswell@earthlink.net.


Editors Note: See!!?? Is she not the most incredible woman??!! She loves our skateboarding community and is very visible. You'll see her at major skate events. Don't be shy – she's not – so stop her to say "Hi". Oh, and, autograph requests are always fun.